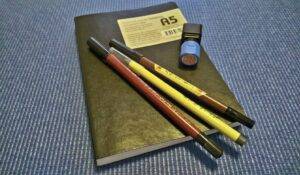 Update: 20180916 – Now include only the latest paintings, and unifying the pricing to just SGD $599 (approx. US$ 435).
Hi! Thank you for visiting my art website. My name is Seamus (Рафаэль). I have painted since I was very young, and was an early graduate of the Nanyang Academy of Fine Art (NAFA) in 1979, a fine art college in Singapore. I am also a potter, specializing in sculpting clay figurines, although these days I focus on Chinese painting.
This website features some of the mini paintings. The paintings are typically A5 in size (5.8 x 8.3 inches, or 148 x 210 mm). I may paint larger paintings in the future, if I go full-time. For now, A5 paper is portable for me as I move about.
However, if you want commissioned art, than I can be flexible to take on projects of any sized medium.
I make my paintings approachable in pricing, so that everyone can enjoy having a painting for your desk (at work or at home), on a coffee table, or even on the wall. The paintings are generally delivered UNFRAMED, since everyone may have personal preferences to the frame design or material.
Do note the prices are in SGD (Singapore dollars). The rough equivalent pricing in USD (American dollars) are:
SGD $599 (roughly US$ 435)
If you like to know more precise currency conversions, I use the popular XE.com/currencyconverter.
If you would like a painting framed, contact me for custom pricing (which includes sending the painting to the framer, and additional shipping costs).
I have categorized my paintings into 5 types (selectable via the Menu above):
Podvig (Christian-themed paintings)

Prosto (ordinary themed paintings)